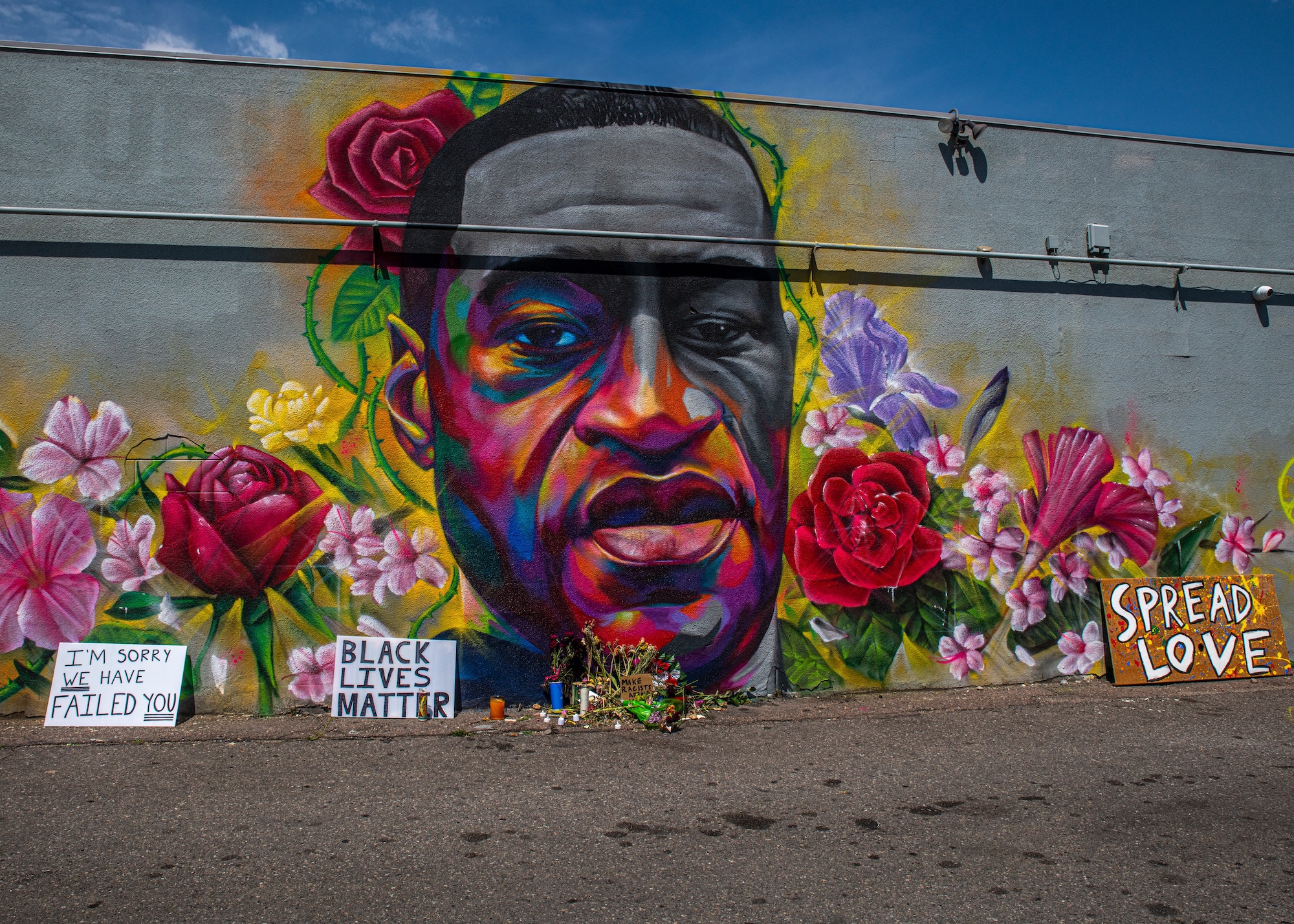 A Reposting of a Letter From Bishop Yehiel Curry on the Anniversary of George Floyd's Death
Today, on the anniversary of George Floyd's death, we are reposting this important message from Bishop Yehiel Curry, first published June 1, 2020. We remain grateful to our bishop for his vulnerability, courage, and willingness to speak the truth in love. May his message remain a challenge, a blessing, and a commissioning for you and your communities.
Hoy, en el aniversario de la muerte de George Floyd, volvemos a publicar este importante mensaje del obispo Yehiel Curry. Se publicó por primera vez el 1 de junio de 2020. Estamos agradecidos con nuestro obispo por su vulnerabilidad, coraje y disposición para hablar la verdad con amor. Que su mensaje sea un desafío, una bendición y un encargo para ustedes y sus comunidades.
Dear Partners in Ministry, 
I am grateful for those of you who have reached out to me recently, and those who have encouraged me to write a statement about the events taking place in this country. As one of two African Descent male bishops in the ELCA, that is what I am doing here. Please know that as I write, my emotions are still raw, painful, and constantly changing. But here is what I have right now.
On the morning of Tuesday, May 26, 2020, I saw the headline shared by Bishop Pat Davenport in a Facebook post, and I cried.  Skipping over the commentary, I clicked on the link. Immediately, I became fixated on the posture, the eyes, and the sounds of George Floyd as life began to leave his body and his face began to change. I moved my cell phone closer to my face and I continued to stare. I thought of myself, my brothers, my nephews…
I saw all of us in this, our neighbor, George Floyd. What's next? I wondered. Will racial profiling lead to an officer's knee on my neck? As George stopped breathing, I paused the video. I closed my eyes, and I cried some more. I cried for George Floyd. I cried for Ahmaud Arbery. I cried for Breonna Taylor, and for Dreasjon (Sean) Reed. I cried for Trevon Martin and Tamir Rice. I cried for Walter Scott and Laquan McDonald. I cried for all of these children of God, and for the countless others, known and unknown, who have fallen at the hands of racism and brutality.
As my tears slowed, I felt compelled to sit in the tension of the moment. Hoping against hope, I restarted the video—looking for some sort of resurrection. Instead, I saw Officer Chauvin's knee. His demeanor was so cavalier, and he appeared to be so comfortable, that one might mistakenly think that this act of murder was normal or routine. 
I shared the video with the hashtag #ImTiredOfThis and turned off my phone. I was not okay!  And yet, like all among us who experience racism, micro-aggressions, over-policing, and harassment every day, I quietly packed away this experience and returned to my life routines. But the things we pack away can't stay packed away forever. 
Within communities impacted the most by both police brutality and COVID-19, suppressed trauma has been transformed into direct action and civil disobedience, empowering communities to organize for justice throughout Metropolitan Chicago, Minneapolis, and the United States.  
Unfortunately, some suppressed traumas have also ignited looting and the destruction of property. Such activity is neither the cure for the pandemic of systemic racism nor the perpetual brutality exercised against Black and Brown bodies, but it is a symptom of these things. 
When developing a cure for a disease, doctors, scientists, and specialists of all kinds assemble with one common goal—to find a cure. Distinct from simply treating symptoms, a cure gets at the root of the thing that was causing the symptoms in the first place, so as to irradicate the disease. 
Family in Christ, we need a cure. Our siblings are dying. If we choose to remain silent while benefiting from privilege, then we become complicit in that death, ensuring that justice and change will not be achieved. 
Social statements are good and fine, but for change, for real and lasting change, we need to be in relationship.  We need to come together with a common goal, striving collectively to irradicate racism and injustice in our communities, in the church, and in the world. May it be so, and in the words of 1 John 3:18, may it be so not in word or speech alone, but in action and in truth.
In this season of Pentecost, I pray for the Spirit to fill us all again with a renewed passion for God's reign of justice and love, and a deepened desire to live out God's mission in this synod, to proclaim the Gospel, make disciples, and do justice—liberating, life-giving justice—in Jesus' name.
In Christ, 
The Rev. Yehiel Curry
Bishop
Metropolitan Chicago Synod, ELCA                           
Estimados socios en el ministerio,
Estoy agradecido por aquellos de ustedes que me han contactado recientemente, y aquellos que me han animado a escribir una declaración sobre los eventos que están pasando en nuestro país. Como uno de los dos obispos varones afrodescendiente en la ELCA, eso es lo que estoy haciendo aquí. Tenga en cuenta que mientras escribo, mis emociones siguen siendo crudas, dolorosas y en constante cambio. Pero esto es lo que tengo ahora.
En la mañana del martes 26 de mayo de 2020, vi el titular compartido por el obispo Pat Davenport en una publicación de Facebook, y lloré. Saltando el comentario, hice clic en el enlace. Inmediatamente, me obsesioné con la postura, los ojos y los sonidos de George Floyd cuando la vida comenzó a abandonar su cuerpo y su rostro comenzó a cambiar. Acerqué mi teléfono celular a mi cara y seguí mirando. Pensé en mí, mis hermanos, mis sobrinos …
Los vi a todos en esto, nuestro vecino, George Floyd. ¿Que sigue? Me preguntaba. ¿El perfil racial conducirá a la rodilla de un oficial en mi cuello? Cuando George dejó de respirar, detuve el video. Cerré los ojos y lloré un poco más. Lloré por George Floyd. Lloré por Ahmaud Arbery. Lloré por Breonna Taylor y por Dreasjon (Sean) Reed. Lloré por Trevon Martin y Tamir Rice. Lloré por Walter Scott y Laquan McDonald. Lloré por todos estos hijos de Dios y por los innumerables otros, conocidos y desconocidos, que han caído en manos del racismo y la brutalidad.
Cuando mis lágrimas disminuyeron, me sentí obligado a sentarme en la tensión del momento. Esperando contra la esperanza, reinicié el video, buscando algún tipo de resurrección. En cambio, vi la rodilla del oficial Chauvin. Su comportamiento era tan arrogante, y parecía tan cómodo, que uno podría pensar erróneamente que este acto de asesinato era normal o rutinario.
Compartí el video con el hashtag #ImTiredOfThis (#EstoyCansadoDeEsto) y apagué mi teléfono. No estaba bien! Y, sin embargo, como todos los que experimentamos el racismo, las micro agresiones, la vigilancia excesiva y el acoso todos los días, silenciosamente empaqué esta experiencia y volví a las rutinas de mi vida. Pero las cosas que empacamos no se pueden guardar para siempre.
Dentro de las comunidades más afectadas por la brutalidad policial y COVID-19, el trauma reprimido se ha transformado en acción directa y desobediencia civil, lo que permite a las comunidades organizarse por la justicia en todo el área metropolitana de Chicago, Minneapolis y los Estados Unidos. Desafortunadamente, algunos traumas suprimidos también han provocado el saqueo y la destrucción de la propiedad. Tal actividad no es la cura para la pandemia del racismo sistémico ni la brutalidad perpetua ejercida contra los cuerpos negros y marrones, pero es un síntoma de estas cosas.
Al desarrollar una cura para una enfermedad, los médicos, científicos y especialistas de todo tipo se reúnen con un objetivo común: encontrar una cura. A diferencia del simple tratamiento de los síntomas, en primer lugar, una cura llega a la raíz de la cosa que estaba causando los síntomas, a fin de erradicar la enfermedad.
Familia en Cristo, necesitamos una cura. Nuestros hermanos se están muriendo. Si elegimos permanecer en silencio mientras nos beneficiamos del privilegio, entonces nos convertimos en cómplices de esa muerte, asegurando que no se logre la justicia y el cambio.
Las declaraciones sociales son buenas, pero para el cambio, para un cambio real y duradero, necesitamos estar en relación. Necesitamos unirnos con un objetivo común, esforzándonos colectivamente por erradicar el racismo y la injusticia en nuestras comunidades, en la iglesia y en el mundo. Que sea así, y en las palabras de 1 Juan 3:18, que sea así no solo en palabras, sino en acción y en verdad.
En esta temporada de Pentecostés, oro para que el Espíritu nos llene nuevamente con una pasión renovada por el reino de justicia y amor de Dios, y un deseo más profundo de vivir la misión de Dios en este sínodo, proclamar el Evangelio, hacer discípulos y haz justicia, justicia liberadora y dadora de vida, en el nombre de Jesús.
En Cristo,
El Reverendo Yehiel Curry
Obispo
Sínodo Metropolitano de Chicago, ELCA