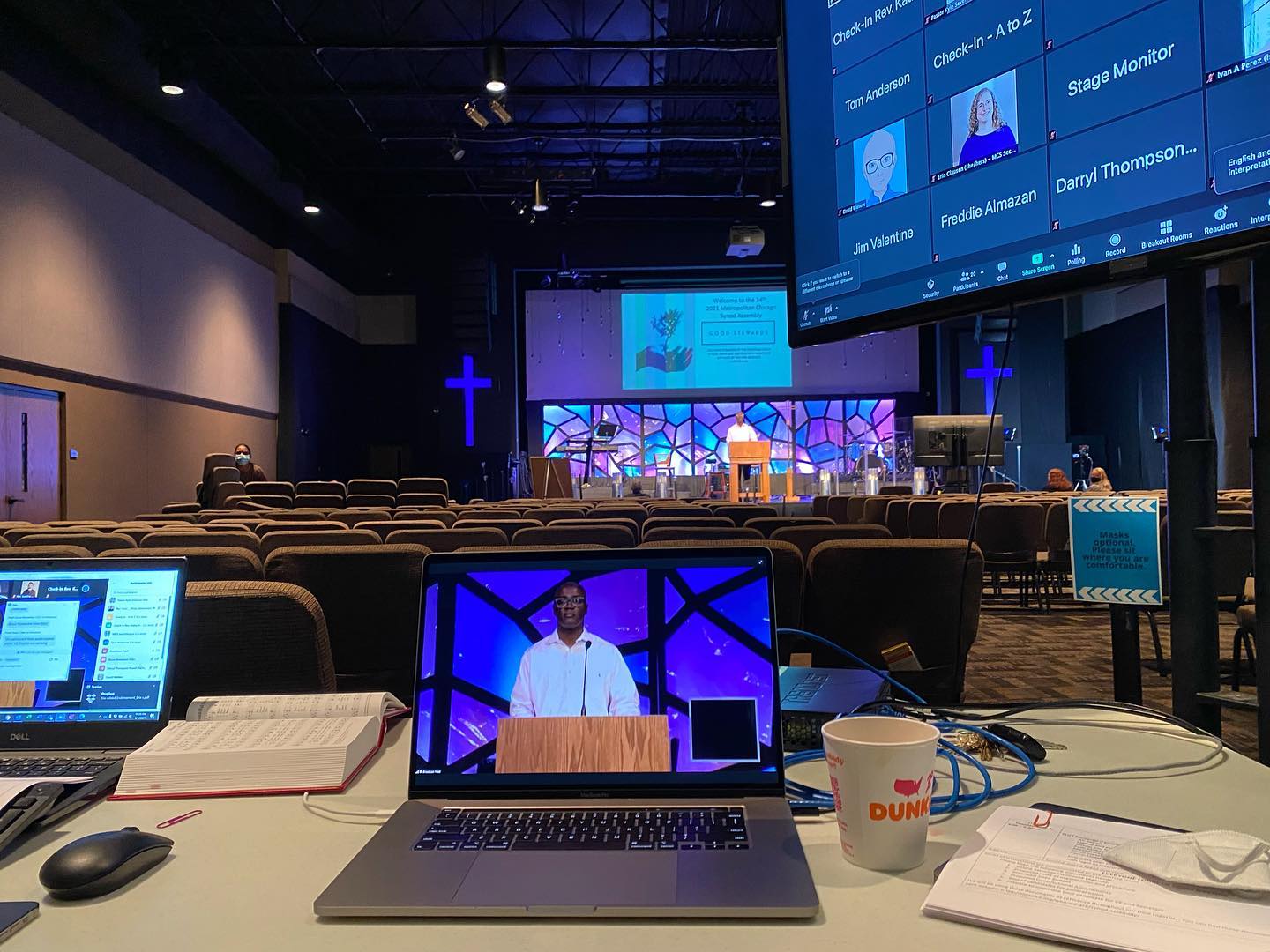 Bishop Yehiel Curry Announces Congregational Recovery Grant, Ministry From the Margins Fund, and MCS Working Groups at 2021 MCS Assembly
In his address the morning of June 5, 2021, Bishop Yehiel Curry spoke of the new Congregational Recovery Grant (which is now open), the Ministry From the Margins Fund (which will open in October), and the establishment of MCS Working Groups (to which you may apply). Below you'll find some more information about all three. 
The Congregational Recovery Grant
The purpose of this grant will be to assist congregations as they make plans for in-person interactions and as they encounter new needs, into the future, while recovering from this pandemic.
Examples of intended uses for these recovery grants include:
"Return to worship" supplies

Advertising to provide communication about a congregation's plans to resume

Training and capacity-building opportunities (such as online worship workshops)

Operational expenses (such as technology upgrades or hand sanitizing stations)

 Respite or retreat for congregational leaders (be they rostered and non-rostered), and

Vaccination-drive expenses (such as. transportation pools, information campaigns, and beyond)
For the moment, both the Congregational Support Fund and this newly proposed Congregational Recovery Fund will remain open for congregations to apply. 
In order to leave these funds as accessible as possible to those who will benefit from them, congregations will not be required to produce reports or receipts, though we absolutely look forward to gathering recovery stories and testimonies which (again) will serve as inspiration and encouragement for the rest of us. 
The Ministry from the Margins Fund (MFM) 
Those of us living on the edges of society, frequently referred to as marginalized, experience ministry differently from what many from other, more 'centered' social or economic intersections refer to as "traditional" or "normal." By necessity and through experience, our communities are often extremely flexible and resilient. Oftentimes, they are also fragile. Nonetheless, faced with scarce resources, our communities manage to rise to the challenges presented to us in times of crisis. Our communities manage to look at the world and see opportunity rather than limitation. 
The diversity we experience among us constantly moves us toward possibility and creativity, toward outreach and new ways of ministering. 
Of course, we live in a world and in a church that constantly is reinforcing the "norm." that which has always been done, that which is expected, and sometimes that which is called "traditional." Quite often, our institutions seek diversity but expect those who are different or marginalized to assimilate, to conform to the institutional practices or patterns of behavior in order to be fully accepted or even respected. 
The inherent tension created by this approach, measuring success by the norms of the institution as opposed to bearing witness to the impact or gains made by distinct ministries, leads to struggle and makes ministry from the margins vulnerable and difficult.
 It is intrinsic to our role as leaders of a church that seeks to pursue justice to embrace new paradigms for ministry by supporting those communities who are doing ministry in ways that do not conform to what we expect. 
Our call as we continue in our mission to do justice is to ensure that we create, sustain, and fund ministries in which all of our communities can thrive.
To this end, in 2015, Advocate Aurora Health provided an unrestricted partnership and appreciation gift of $1.5 million to the Metropolitan Chicago Synod, designated for marginalized congregations and placed in a fund we now call Ministries from the Margins.  Additional financial support for the fund came from the estate of George Plesner.  He and his sister were members at Immanuel Lutheran Chicago. Today the Fund is valued at over 2.8 million.  
The synod council has activated this fund and starting in October 2021, the fund will be open for applications. 
At that time, congregations of the Metropolitan Chicago Synod may apply for a $10,000 starting grant. We expect to share approximately 7-10 of these $10,000 grants per year. Applicants will be able to apply once per calendar year. 
This imaginative effort will no doubt serve as an important resource in fueling our MCS congregations ministering from the margins of society. 
MCS Working Groups 
You may use this link to nominate yourself or someone else for the following working groups.
Grants/Scholarships – Works with designing the process and reviews the accessibility of grants and scholarships.
Future design of Synod Assemblies – Envisions new ways of gathering and doing the business of synod assemblies.
2023 Chicago Youth Gathering – Envisions, designs and plans for a synodwide youth gathering for all congregations.
2022 Rostered Leaders' Gathering – Envisions and designs an event for Rostered leaders
Synod Constitution – Work on reviewing and updating the MCS constitution
Synod Investments – Reviews and proposes best practices and options for synod investments.