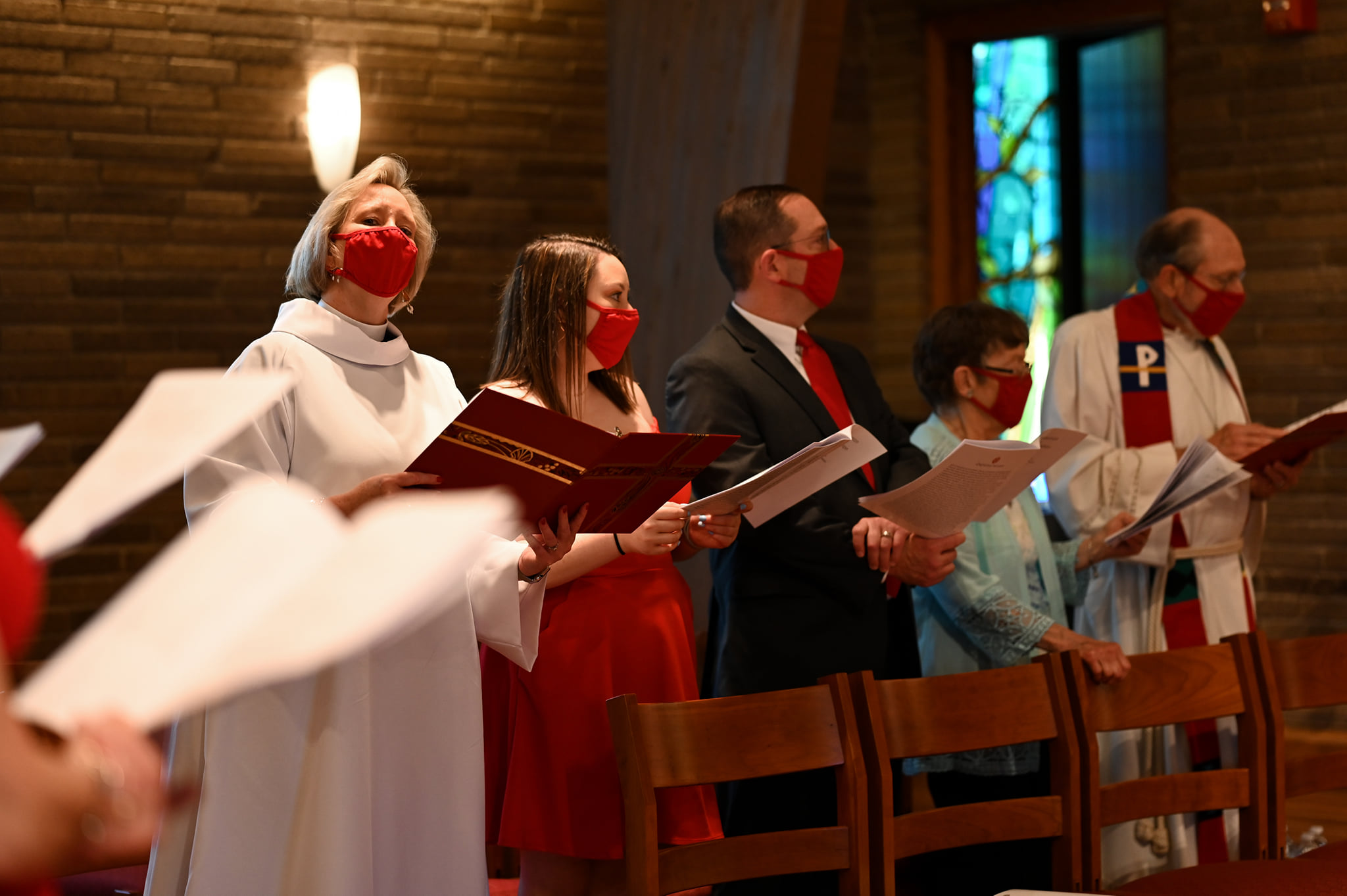 COVID-19 Update: CDC Mask Guidance
Dear Partners in Ministry,
The COVID-19 pandemic continues to unfold and we learn more about the virus each day. Tremendous progress has been made in vaccinations, and we celebrate God's gift of science! However, emerging variants (that is, changes to the virus) have transformed the disease into something that acts a bit different than originally. It's altered in ways that scientists are still discovering, but public health officials know that the changes are having a dramatic impact on community transmission. As such, the CDC released an updated guidance for masking indoors. This new guidance has the most impact on vaccinated individuals and will likely change how we gather for worship.
Below is a summary of information and some suggestions for applying this information to your settings. We continue to hold you in prayer during this difficult and challenging time in ministry. We remind you to love the vulnerable, especially children and those who are immunocompromised along with their parents and caretakers.
In love of neighbor,
The Rev. Yehiel Curry, Bishop; Metropolitan Chicago Synod
The Rev. Jason S. Glombicki, Restoring MCS co-leader; Synod Council
The Rev. Kyle R. Severson, Restoring MCS co-leader; Pastoral Staff
New Developments
On Tuesday, July 27, the CDC released new masking guidance for indoor settings as a result of the Delta variant circulating in the United States. Similarly, the CDC has updated recommendations for fully vaccinated people, and the Illinois Department of Public Health affirmed these updates.
WHAT IS RECOMMENDED?
Fully vaccinated people wear a mask in public, indoor settings of "substantial" or "high" transmission as noted on a county level here. This is in addition to existing guidance that all non-vaccinated individuals should wear a mask.
Fully vaccinated people who have a known-exposure to someone who has been suspected of having or confirmed to have COVID-19 should be tested.
Universal indoor masking for all within school settings, regardless of vaccination status.
WHY IS IT RECOMMENDED?
The CDC noted in their briefing that:
Fully vaccinated people are less likely to become infected and, if infected, to develop symptoms of COVID-19.
Fully vaccinated individuals are at substantially reduced risk of severe illness and death from COVID-19 compared with unvaccinated people.
The Delta variant, which has become widespread in the United States, can be transmitted by vaccinated individuals (the original virus could not be transmitted).
Vaccinated individuals transmit the same amount of virus when infected (a.k.a. viral load) as those who are unvaccinated.
What Does This Mean for Congregations?
The information above is a game changer for how we have gathered during Phase 5. While frustrating, the pandemic is still with us and congregational life will need to adjust to best protect the most vulnerable, especially children and the immunocompromised. So too, the risk for those who care for children and the immunocompromised are more dramatic than with previous versions of the virus as caretakers and parents can more easily pass the virus to these vulnerable individuals. These realities likely give us as people of faith pause. We suggest a re-commitment to best practices to slow the spread of the virus or, perhaps for some congregations, a return to previous safety measures.
We recommend masks for all people when indoors, regardless of vaccination status. We strongly recommend masks for all when your county is at "substantial" or "high" risk.
As noted above, while fully vaccinated people are less likely to be infected with COVID-19 or develop symptoms, you can still be infected with the Delta variant and spread it to others. Vaccinated individuals can transmit the virus with a similar viral load when infected. This poses a heightened risk to caretakers of children and the immunocompromised.
Many settings that include a mixture of individuals with varied vaccination statuses require all individuals to mask, regardless of vaccination status. These settings include public transportation and now, schools. Congregations are similar to schools and public transportation in regards to the mixture of a diverse group of people that include children who cannot be vaccinated and the immunocompromised who even if vaccinated may be more susceptible to infection.
County status as of August 9 (details here): 
High

spread in DuPage –– we highly recommend masks for all indoors

Substantial

spread in Cook, Kane, and Lake –– we strongly recommend masks for all indoors
NOTE: Universal masking continues to be the recommendation of
The Ecumenical Consultation on Protocols for Worship, Fellowship, and Sacraments and Wisconsin Council of Churches which have long been essential resources for our recommendations.
Gather outside when possible; if indoors, increase ventilation.
Because this is an airborne virus, ventilation is a key component for safely gathering and makes outdoor gatherings much safer. The CDC has released guidance on ventilation in buildings. Furthermore, they've released tools for use at home which may help to give summary information for your congregation.
A few key components include:
Bring in fresh air as much as possible by safely opening doors and windows.
Filter the air with properly fit and regularly changed pleated filters, which may include portable air cleaners or HVAC updates.
Keep exhaust fans on as much as possible.
Use fans to improve airflow by blowing air outside the building, pointing fans away from people, and using ceiling fans to increase air movement.

We recommend that you refrain from congregational singing (masked or unmasked).
Many reputable organizations continue to recommend against singing at this time, even with masks on, due to the mixture of vaccinated and unvaccinated individuals gathered for congregational activity. With this new information released by the CDC, we urge you to follow these recommendations.
As the Ecumenical Consultation on Protocols for Worship, Fellowship, and Sacraments noted on June 8, 2021, "Several recent studies have confirmed that forceful, sustained breathing, such as during singing by congregations or choirs and playing brass and wind instruments, pose a greater danger of spreading the coronavirus than ordinary speaking at regular volume, especially indoors, since air handling systems in most buildings, including churches, are not designed for the level of air replacement and filtration that make these activities safe" (page 18).
Here are some of their recommendations:
Congregational and choral singing are possible outdoors, if it is safe to meet outdoors, and if all singers are masked, remain 6 feet from persons not in their households.
Singing by a soloist or a small ensemble (4 to 6 persons) is possible indoors, if it is safe to meet indoors, and if all singers are fully vaccinated, masked, remain 6 feet from each other, and 16 feet from others in the congregation.
Wind instruments may be used as solo indoors if covered with a bell mask.
If a congregation chooses to sing indoors, it is safer to have: (1) everyone masked, (2) have vaccinated small groups sing most of the music, (3) have the congregation only sing the sending/final hymn, (4) everyone vacate the space following the final hymn, and (5) have increased ventilation throughout the service with windows/doors open and HVAC systems bringing in fresh air.
You may wish to keep up to date with ongoing research from reputable sources such as The Hymn Society of North America and The Center for Congregational Song as they continue to review new research and make recommendations for congregations.
Think more about "air swapping" and less about surface touching.
The Phase 5 guidelines do not provide any guidance on shared surfaces. COVID-19 is mostly airborne, so more emphasis should be placed on masks, ventilation, and distancing. However, The Ecumenical Consultation on Protocols for Worship, Fellowship, and Sacraments (an ELCA-endorsed set of guidelines) continue to recommend limiting unnecessary touch. They have provided ways to engage in confirmation, baptism, marriage, and other operations in their guidelines. As always, we recommend that you continue to clean surfaces and sanitize touchpoints on a regular basis within your standard cleaning protocols to, generally, prevent illnesses.
Encourage vaccinations as a way to love self and neighbor.
Vaccines are a gift from God. The COVID vaccines are safe, effective, and a source of life. We encourage congregations and its leaders to openly discuss the importance of vaccines and consider hosting a vaccination site. The synod has grant money available for congregations to host vaccination sites and support safety measures. Learn more about funding available here.
Where Do We Go From Here?
Each congregation will need to make a decision for their context, balancing the multiplicity of factors. It is important that you continue to hold the love of all people–those vaccinated, those yet to be vaccinated, and those not getting vaccinated–in your plans for in-person ministry. Remember, children under age 12 and some that are medically vulnerable do not have the ability to be vaccinated, and some immunocompromised individuals when fully vaccinated remain particularly susceptible towards infections. So too, caretakers of these vulnerable populations are at a heightened risk of transmitting it to loved ones. Hold these most vulnerable populations at the forefront of your plans. As always, it is critical that you observe the most restrictive guidelines for your local jurisdiction regarding COVID-19 mitigation measures.
The synod staff continues to be available for support. Questions or additional clarifications can be directed towards the Associate to the Bishop for your conference. Financial support is available to help congregations host vaccination drives, assist in operational expenses, acquire safety supplies, and more. Learn more about the Congregation Recovery Grants here.
Additional Resources