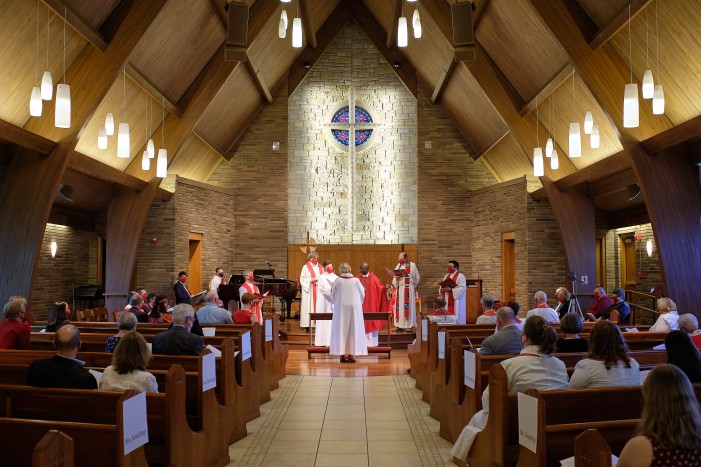 COVID-19 Update: Phase 5
Dear Partners in Ministry,
You may have heard the news that this Friday, June 11, the state of Illinois will be entering Phase 5 of the Restore Illinois COVID-19 framework. We continue to rejoice in the reduced spread of the virus in our synod and the increasing numbers of individuals receiving the vaccine! Below is a summary of information and some suggestions for applying this information to your settings below.
In love of neighbor,
The Rev. Yehiel Curry, Bishop; Metropolitan Chicago Synod
The Rev. Jason S. Glombicki, Restoring MCS co-leader; Synod Council
The Rev. Kyle R. Severson, Restoring MCS co-leader; Pastoral Staff
New Developments
Beginning, Friday, June 11, the state will move into Phase 5 of COVID-19 mitigation measures. Some highlights include:
An encouragement for all to be vaccinated.
Guidance: "For indoor businesses and venues where everyone present is not fully vaccinated, unvaccinated persons should wear a face covering and maintain six feet social distance. Businesses and venues may continue to require face coverings and/or social distancing. At outdoor businesses and venues, unvaccinated persons may choose not to wear a face covering when able to maintain a six-foot social distance while outdoors, unless required to do so by a business or municipality."
Recommendation that "all unvaccinated persons should wear face coverings in crowded settings, both indoors and outdoors, especially when youth are present."
Encouragement that "all businesses and venues should support social distancing to the extent possible, especially in indoor settings."
There continues to be an emphasis on the spread of COVID-19 by "swapping air" with someone who is infected. The CDC notes that COVID-19 spreads in three main ways:

"Breathing in air when close to an infected person who is exhaling small droplets and particles that contain the virus.
Having these small droplets and particles that contain virus land on the eyes, nose, or mouth, especially through splashes and sprays like a cough or sneeze.
Touching eyes, nose, or mouth with hands that have the virus on them."
What Does This Mean for Congregations?
1. How might we follow these mask and distancing guidelines?
Congregations may find a number of ways to honor these guidelines while protecting the most vulnerable and providing welcome and hospitality. We reaffirm our previous recommendations as noted in our May 20, 2021 "Mask Guidance."
2. How might we take precautions knowing this is an airborne virus?
Because this is an airborne virus, ventilation is a key component for safely gathering and this makes outdoor gatherings much safer. The CDC has released guidance on ventilation in buildings. Furthermore, they've released tools for use at home which may help to give summary information for your congregation.
A few key components include:
Bring in fresh air as much as possible by safely opening doors and windows.
Filter the air with properly fit and regularly changed pleated filters, which may include portable air cleaners or HVAC updates.
Keep exhaust fans on as much as possible.
Use fans to improve airflow by blowing air outside the building, pointing fans away from people, and using ceiling fans to increase air movement.
3. What about symptom pre-screens for visitors, guests, and staff?
The Phase 4 guidelines introduced by the state no longer apply in Phase 5. The state is not recommending symptom pre-screens at this time.
4. What are the Phase 5 capacity limits?
In Phase 5, there are no restrictions on capacity limits. You should continue to follow the capacity limits in each room as designated by your local municipality and/or fire department. You may need to implement your own limits to ensure social distancing within your spaces.
5. What about RSVPs?
RSVPs are not addressed in the Phase 5 guidelines. Some congregations may choose to continue with RSVPs to follow their own capacity limits for social distancing. Furthermore, having a list of names can be helpful if someone tests positive for COVID and contact tracing is needed.
6. Do we need to record names for contact tracing?
The guidelines no longer specifically ask congregations to keep a record for contact tracing. However, congregations may choose to do so if they find it helpful to directly contact those present instead of making a large-scale communication effort to inform the congregation and community if someone tests positive for COVID-19.
7. What about the regular disinfection of surfaces?
The Phase 5 guidelines no longer specify that shared surfaces should be cleaned in between each individual. We recommend to continue to clean surfaces and sanitize touchpoints on a regular basis within your standard cleaning protocols to, generally, prevent illnesses.
8. What about limiting touch, including shared surfaces?
The Phase 5 guidelines are not providing any guidance on shared surfaces. We know that COVID-19 is mostly airborne, so more emphasis should be placed on masks, ventilation, and distancing. However, The Ecumenical Consultation on Protocols for Worship, Fellowship, and Sacraments (an ELCA-endorsed set of guidelines) continue to recommend limiting unnecessary touch. They have provided ways to engage in confirmation, baptism, marriage, and other operations in their newly released guidelines.
9. What about singing?
The Phase 5 guidelines do not provide any guidance on singing. Many reputable organizations continue to recommend against singing at this time, even with masks on.
As the Ecumenical Consultation on Protocols for Worship, Fellowship, and Sacraments noted on June 8, 2021, "Several recent studies have confirmed that forceful, sustained breathing, such as during singing by congregations or choirs and playing brass and wind instruments, pose a greater danger of spreading the coronavirus than ordinary speaking at regular volume, especially indoors, since air handling systems in most buildings, including churches, are not designed for the level of air replacement and filtration that make these activities safe" (page 18).
Here are some of their recommendations:
Congregational and choral singing are possible outdoors, if it is safe to meet outdoors, and if all singers are masked, remain 6 feet from persons not in their households.
Singing by a soloist or a small ensemble (4 to 6 persons) is possible indoors, if it is safe to meet indoors, and if all singers are fully vaccinated, masked, remain 6 feet from each other, and 16 feet from others in the congregation.
Wind instruments may be used as solo indoors if covered with a bell mask.
If a congregation chooses to sing together indoors, it is safer to have: (1) everyone masked, (2) have vaccinated small groups sing most of the music, (3) have the congregation only sing the sending/final hymn, (4) everyone vacate the space following the final hymn, and (5) have increased ventilation throughout the service with windows/doors open and HVAC systems bringing in fresh air.
You may wish to keep up to date with ongoing research from reputable sources such as The Hymn Society of North America and The Center for Congregational Song as they continue to review new research and make recommendations for congregations.
Where Do We Go From Here?
Each congregation will need to make a decision for their context, balancing the multiplicity of factors. It is important that you continue to hold the love of all people–those vaccinated, those yet to be vaccinated, and those not getting vaccinated–in your plans for in-person ministry. So too, it is critical that you observe the most restrictive guidelines for your local jurisdiction regarding COVID-19 mitigation measures.
The synod staff continues to be available for support. Questions or additional clarifications can be directed towards the Associate to the Bishop for your conference.
Additional Resources