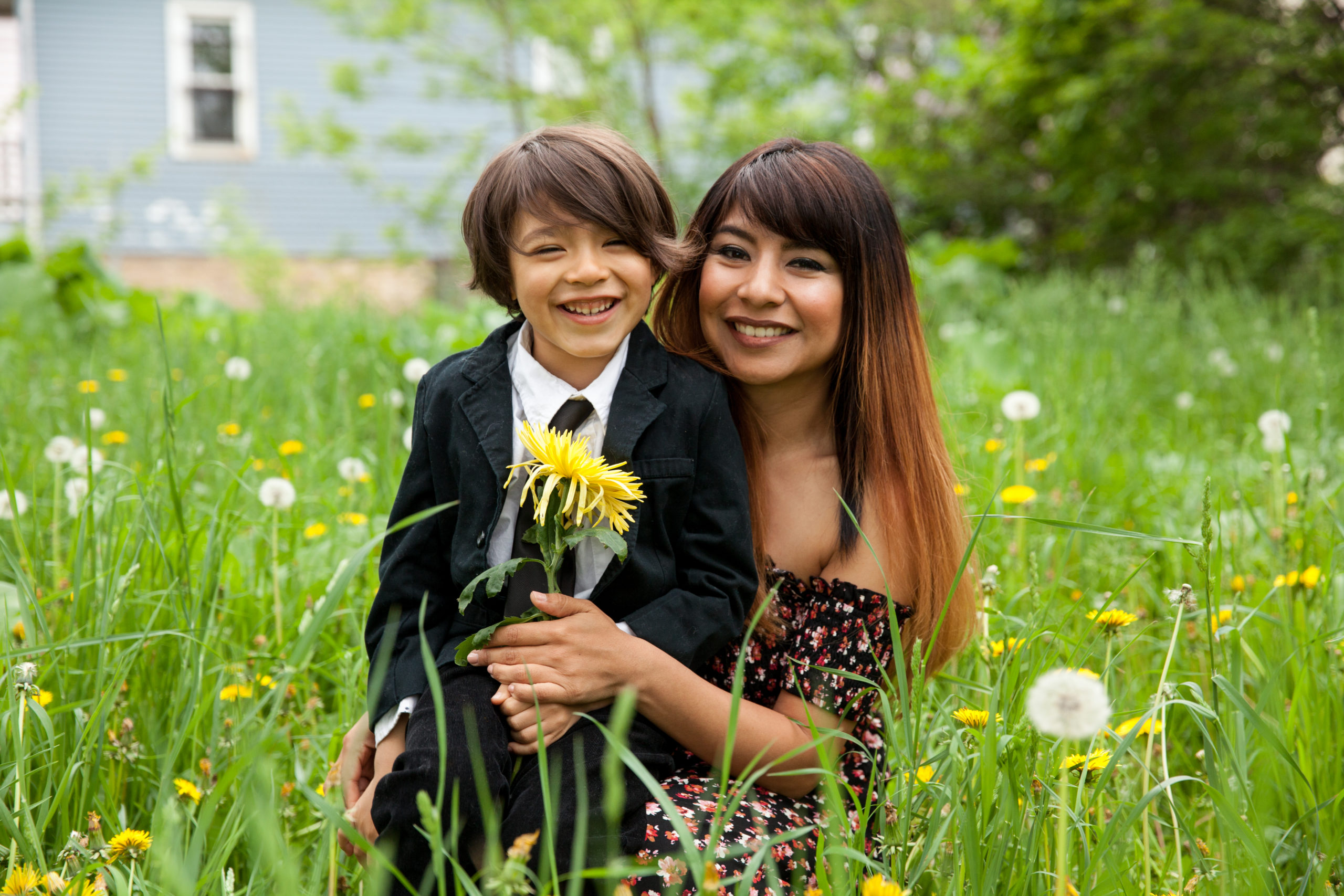 Gaby Valladolid
The story below was first shared with us by Gaby Valladolid for the April 2020 edition of the Metro Word. We're republishing it for Women's History Month as we give thanks for God's ministry in Gaby's life, and Gaby's own story. Thanks be to God for Gaby!
Hello. My name is Gaby, and I work for the Metropolitan Chicago Synod. I am a single mom to a wonderful eight year old boy named Max. I was born in Mexico City and raised in Chicago. I graduated from NEIU with a B.A. in Fine Arts and a Concentration in Photography. I have been photographing for over 10 years. Prior to working at the synod office, I was self-employed launching my photography business. The story I would like to share with you today is the story about how I was brought back into loving church again. 

I was nine years old when I attended my first service at a Baptist church located in the heart of Chicago. I remember church being the best place to be. I felt safe, loved, and important. Church also helped ease the pain I was feeling at nine years old. It helped make sense of the bad and the ugly that existed in my world. My family and I have been through what seems like a lifetime of unfortunate events, but God has and continues to see us through. That is a testimony I will have to share at another time. God was the light to my darkness and things began to shift and align in my life. I could see the light at the end of the tunnel. God renewed my spirits every day, and because of God's grace and mercy, every day was a new day.
Did I mention that church was everything to me? The people, the music, I could spend all day and every day at church. My favorite phrase to chant on a Sunday service was "God is good all the time, all the time, God is good!" I was a member of my church for over 16 years.
As I got older I was able to take on more responsibilities. I became the dance and youth leader at my church. I was full of life, full of ideas, and full of excitement. I was encouraged to use my gifts for God's kingdom. How cool was that? My hip-hop dance group named Universal performed in many youth events throughout Chicago. It was called Universal because we weren't only spreading positivity at different churches, but also in other community gatherings.
I was also given the opportunity to preach at my church. I remember doing a live drawing during my message using charcoal to create a portrait of Jesus. That drawing now hangs in my mother's room. During that time, I felt spiritually rich and my relationship with God was stronger than ever.
I was 18 years old when I met my boyfriend. He and I worshiped at the same church for several years. After dating for three years, my boyfriend moved into my family's home due to some ongoing conflicts back home. As soon as the church found out we were living underneath the same roof, they asked me to step down from my ministries. I was told that my actions were sinful and unholy, which automatically made me feel far from God. I was going through the motions. I felt embarrassed and ashamed. I was impacting so many lives with my ministries, including my own.
The church suggested and encouraged us to get married in order to keep our participation going. Because of this pressure, we got married one day before I turned 22 years old. Though the church expected us to get married, not one church leader stepped in to give us advice, to give us marriage counseling, and no one guided us through this process. Juan and I got married through civil court and held a small dinner after to celebrate with family and friends. This all happened so quickly, in a blink of an eye. Juan didn't even get the chance to buy me a wedding ring or for that matter an engagement ring. I had to shop for our wedding bands on my own time.
That following Sunday, after the wedding, our church presented us to the congregation as Mr. and Mrs. Alers. I was now granted permission to proceed with my ministries. I felt accepted and no one was looking at me as if I were a sinner. The next four years would be the hardest years of my adult life. Juan and I faced many marital problems as a young couple and as a couple who only got married because we were living underneath the same roof and wanted the church to accept us.
Though I was pouring days and hours into my ministries, no one seemed to be pouring into my life. I was beginning to feel burnt out, not only with my ministries, but with my marital problems. After four years of being lost in this world of marriage, Juan and I separated and later got divorced.
I left my church and I left my home. I was alone and I knew right then and there that my heart had turned cold. I felt betrayed and lied to. I had seen people live imperfect lives all my life, but for some reason, mine seemed to stick out the most.
Days, weeks, months passed by and I never received a call from my church leaders. Our congregation was small in numbers. You'd notice if someone didn't make it to church. I felt forgotten, but out of all the feelings, abandonment was the one I felt the most.
I began to live as if I'd never been taught right from wrong. Everything I knew and believed in made no sense to me anymore. My daily question was "How could God let this happen? Why me? Was I not good enough?" My questions were never answered and I quickly fell into depression. I lost weight and I began to take my first gulps of alcohol even though the taste was awful. I just couldn't reason with my thoughts. I didn't know who I was nor who I was becoming. After a few months of being on my own, I met a guy who I began to date. He liked to drink, smoke and party. That was what I was looking for. After dating for several months, I ended up getting pregnant and my life changed pretty quickly.
I was 28 years old at the time, and my life began to shift once more. I would cry myself to sleep. I had made the choice to detox my mind and heart from all the bitterness I had created in my life. Knowing there was a baby growing inside of me, I knew I couldn't do this alone. I began to pray more frequently and I began to let God work in my life again.
I then decided to go back to the one place I had once called home, but it was too much to bear too soon. It took guts to step through my old church doors. There were some nice folks who welcomed me, but not one leader came to talk to me. I remained silent most of the time because I still felt unworthy. My thought was, "I deserve this. These are the consequences I must face for being a sinner." I then decided to stop going to church again. I decided to follow God in silence.
Months later I gave birth to my beautiful son Max. As my relationship with God got stronger and healthier, I knew I wanted my son to know God too.
I tried one last time to go to church, but this time with my son Max. Every time I stepped through those doors, I was reminded of the countless dance performances I had here. I was also reminded of this one time when I played the drums for a Sunday worship service. I don't know how I managed since I had just started practicing the drums. I was reminded of the youth group I once led, but most importantly I was reminded of the place I once spent hours rejoicing, worshiping and loving God. Upon my return with my child, I knew I would never feel that love and care I had once received when I was nine years old. I felt detached from that little girl who encountered God at such a young age. I then made the decision that I would never be a part of church. I didn't want my son Max to experience the rejection I had felt from my congregation.
Fast-forwarding to present time. I have been working for the Metropolitan Chicago Synod for three months now. I am the Administrative Assistant, Synod photographer/videographer, and I work closely with the Deaf Ministry. I have photographed at least 15 synod events thus far, one of them being the installation of Bishop Curry, and one being the Vitality Training held in San Diego, California.
The Lutheran world is all new to me. I remember my first week of training at the Synod. I had a long list of questions. I knew that I had to be patient, and that with time I would come to understand. I had no idea that by attending the Vitality Training, I would gain so much understanding, perspective, and insight about the Lutheran world.
During my time there, I met so many wonderful people, people that I connected with on a personal level. I had the privilege of listening to their personal stories and how they got to this place. The diversity that surrounded me was beautiful to witness. One of the most memorable moments during this trip was crossing over the border with a large Lutheran group. We prayed and held service at the wall. Me being a Mexican who has experienced racism firsthand, I was blown away by all the people who went above and beyond to show that there are people who care and are praying for those affected by the wall and border patrol.
Aside from this life-changing experience, I have been visiting Lutheran churches and photographing their Sunday services and community involvement. It is wonderful to witness the work churches are doing to include everyone from their community. I am overwhelmed with gratitude and thankfulness for being a part of the Lutheran world. Every day my joy and trust in church is being restored.
I would like to thank Bishop Curry for giving me an opportunity to serve in the Metropolitan Chicago Synod. I thank God for never giving up on me. It is only because of God's grace, mercy, and unconditional love that I have been able to survive throughout all these years. I also want to give a special thanks to all the churches who are opening their doors and hearts to all people. All humans want and need to be accepted in church.
I might have felt included as a child, but as I got older, that feeling was gone. Unexpectedly, I was able to maintain a healthy relationship with God even though I was not attending a congregation, but I must say that life is just more beautiful when you can share God's love with your siblings. Being submerged in what is a new world to me, I thank you for showing me that despite one's race, gender, sexual orientation, and walk of life, that we are all truly one in God's presence. I look forward to photographing more Lutheran events, and along the way finding my home church. Lastly, I want to share my favorite verse, "For I know the plans I have for you," declares the Lord, "plans to prosper you and not to harm you, plans to give you hope and a future" – Jeremiah 29:11. 
About
Gaby Valladolid is the synod photographer, videographer, and hospitality coordinator. You can reach her at . This article is a reissue of Gaby's story, first written for the April 2020 edition of the Metro Word.