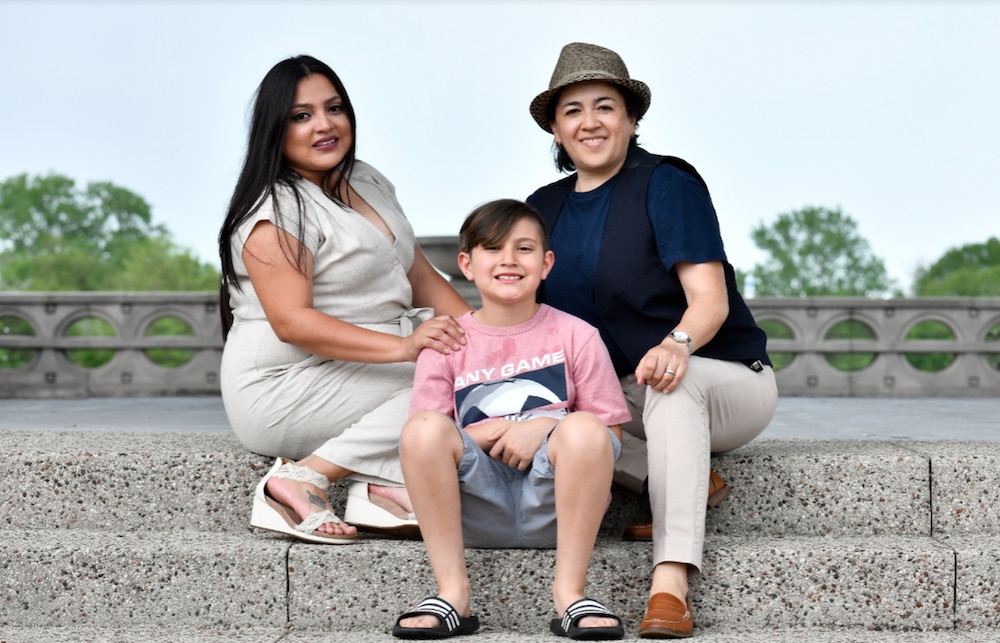 Juana Serna and Martha Cuellar
Our Names are Juana Serna and Martha Cuellar. We met Wednesday, September 9, 2015, outside the house of our mutual friends, Anabel & Jeannette. While waiting for them to open the door, we introduced ourselves. Juana introduced herself as Mickey to Martha's son Eddie, who was 4 years old at the time. Ever since then, he's called her Mickey.
As we enjoyed the gathering, we all decided to go out that Friday to continue the birthday celebration. That Friday, we had a good time. We had dinner, we talked, and we danced. Ever since that day we have not stopped talking.
After a couple of more dates and conversations, we ended up together, and on October 4, 2015, we became formal girlfriends. We've had our ups and downs. At one point we broke up and we were separated for a couple of months. But our love was already too strong, and it prevailed.
Our relationship kept growing and getting stronger, so after a year we formalized it with our family and we decided to move in together in 2017. We often thought about getting married, but it was not until August of 2018 that the engagement took place. The proposal was an amazing surprise for Martha, taking place in Miami by the beach.
Once back at home, Juana did an official and traditional visit to my (Martha's) mother, as well as my brother, in representation of my deceased dad. With a nice bottle of whiskey for him and some beautiful flowers for her, she officially asked for my hand in marriage. It was a moment of celebration and excitement with the family. We got married at City Hall on December 1, 2018. We both come from Roman Catholic Families, and we always had faith but never agreed with some of the Roman Catholic rules and restrictions towards equality. We felt rejected in such a way that we were not comfortable going together to church. Eventually, we started going to an Anglican service, which took place at Unity Lutheran Church in Berwyn, Illinois. Pastor Lalo used space there for his service. On one occasion Vicar Maria came into the service and announced that Unity was planning their first posada and that they were going to prepare tamales. She asked if this congregation wanted to participate. We both raised our hands and volunteered to help. That was the first time we had communication with Unity. We helped prepare and cook tamales, and we had such an amazing time sharing with non-Spanish speaking members from Unity who also helped make the tamales. They are still a part of all of our Latino celebrations. They participate, and we do a lot of bilingual activities with them. Also—the Posada was a success!
One day after attending our Anglican service, we saw the pride colors by the church sign outside and that's when I (Martha) wondered if we could get married there. A church wedding had always been my dream.
Immediately, I asked Juana to please call and find out. She called and Pastor Julie answered. The question was asked: "Do you marry same-sex couples?" Her answer was a sweet "Yes we do." The next question was: "Can you do a Spanish service since our families are mainly Spanish speaking?" Her answer was: "I will transfer you to Vicar Maria. She speaks Spanish." That is where everything began. We set up a time to meet with Pastor Julie and Vicar Maria to talk about our wedding plans and our dream to have a religious wedding. From that moment, we had such an amazing connection with both of them. They are great human beings, great leaders, and most importantly, they made us feel welcomed just for who we are. We started going to their service, which was in English. We were so welcomed by the entire community. We were able to hold hands and no one criticized us. We could freely say; "This is my partner, my wife." We felt home. We felt that we belonged there.
Our wedding day arrived on March 9, 2019. With the church decorated, the music for the service ready, a fresh flower, and me (Juana) waiting for my beautiful wife by the altar. Martha walked in wearing her long white dress singing to me and singing Hallelujah.
We had our families, our sons and daughter, our parents, and our close friends there. Our dream of this day became a reality. Vicar Maria gave us such an emotional ceremony with the participation of Pastor Julie. Our vows, the blessing, the fact that we had our two sons (Abraham who is now twenty and Eddie who is now nine) participate in the ceremony, made everything just magical. Our entire ceremony was in Spanish. We received such beautiful comments about the ceremony. Some same-sex couples were amazed that we were able to have a religious wedding that beautiful, telling us they never thought they could do that. They were just in shock.
After our wedding, we had a few conversations with Vicar Maria about the need in our LGBTQ community for a Spanish service. In June of 2019, Vicar Maria asked us if we wanted to be part of a committee to plan for a Spanish service at Unity, and to mainly promote it to the LGBTQ community, letting us know that we are all welcome in the house of God and that God is love and God loves us for who we are.
In our experience, many Latino LGBTQ people don't attend church due to criticism. A lot of us are mad at church. Many of us come from Roman Catholic backgrounds, where we were taught that God does not accept us, and where we were not allowed to take communion because it was considered to be a sin for us. It can get nasty when they try to make us believe that God doesn't love us because of our sexual orientation.
We started to have our Spanish service in our homes. From the beginning, our slogan was Misa Para Todos, everyone is welcome, which was a contrast to the religious tradition that we came from. In that tradition, divorced couples and unmarried couples who were living together were not allowed to have communion. In that same tradition, if parents were not married, they were not allowed to baptize their children. If godparents were the same gender, they could not participate. If godparents were not married, they couldn't participate, either. I can go on. In contrast, here we are all welcome, and we are welcome to the table to receive Holy Communion.
Early in August 2019, we had our first service in our home. Every Sunday, we would have mass at 12:00 PM. Vicar Maria and Pastor Julie arrived at one of our homes with everything they needed for a full mass. We all had communion. For a few people, this was their first time ever receiving the body and blood of Christ.
November 4, we had our first celebration in the sanctuary. Because Spanish is our first language, we feel more comfortable in our skin at a mass in Spanish. At the celebration, we had an Altar de Muertos and we celebrated our Virgin of Guadalupe with Mariachi, roses, chileno dancers, and banda. This was all organized by Vicar Maria.
Currently, we have already had our second posada. We have regular bible study. Our Spanish-speaking community is growing. We are mainly members of the LGBTQ community, and heterosexual families have joined us, too. We have members from Mexico, Guatemala, Colombia, Chile, Puerto Rico, and more! We are beyond grateful for our church.
We also have bilingual services where we all participate. Our English service participants have been so welcoming, supportive with our Spanish group. We love them. We are two groups but one church. Currently, we have our service via Zoom every Sunday at 11:00 AM. Pastor Julie's Spanish is getting better little by little. We are thankful to her for all the support she has given our Latino group. We are blessed to have such an amazing leader, Vicar Maria. She is always so supporting, so human, and so understanding. None of this would be possible without her.
We also have a small food pantry in church for the people who are most in need during this pandemic. This has been thanks to all the members of both services. Some of us contribute with money. Some contribute time. Some contribute whatever means we have to help. We participate in every service. We are very active in church. We love to be part of Iglesia Luterana Unidad de Berwyn.
About
To learn more about Iglesia Luterana Unidad de Berwyn / Unity Lutheran of Berwyn, visit their website or Facebook page. For information on how to make your church more outwardly welcoming and inclusive for our siblings in the LGBTQAI+ community, consult Reconciling Works, and consider becoming a Reconciling in Christ Congregation.