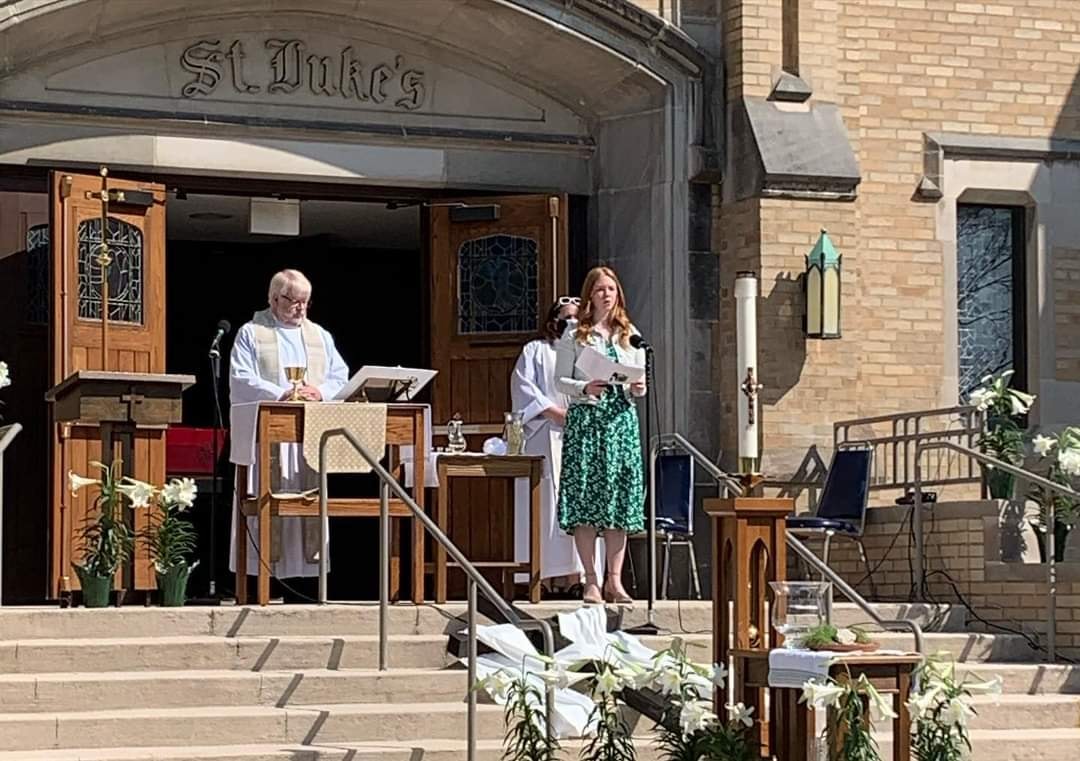 Navigating the Pandemic: A Pastoral Perspective, by the Rev. Richard W. Johnson
I remember watching the news in March, 2020, and hearing that the NCAA March Madness had been canceled, and at that moment I realized we were in for the biggest upheaval in my ministerial life of over 40 years. Up to that moment I thought that it was a tragic regional disaster. Now I realized that everyone in the US was in the crosshairs of this deadly pandemic.
I had only canceled in-person once before during a blizzard in my second parish—and now all the churches in Park Ridge, in our synod, and around the US were closing their doors and immediately switching to online. We first started recording from the sanctuary, but within two weeks the church was closed completely and we began to do online worship from home.
From the beginning of the pandemic we never missed an online Sunday thanks to the incredible commitment of our staff.  In some sense the miracle of the loaves and fishes was being played out right before us. Each of us came with our basket of limited knowledge of producing an online worship service, and—lo and behold—God blessed our efforts and helped to create a meaningful expression of worship online that continues to this day! I thank God every week for our liturgy coordinator who took so much of the responsibility and guided and directed all of us in our work.
We also put in place a COVID-19 Taskforce of volunteer members of the congregation along with staff.  We had doctors, pharmacists and nurses along with social workers and at least one high school student who met regularly to monitor all of the factors that we were facing. This became an important group to communicate to the congregation and council about concerns that needed addressing. We have met by Zoom at least 20 times during the pandemic. They have been wonderful.
Our finances have held during the pandemic thanks to the first PPP loan for which our Treasurer applied and received. We did not qualify for the second PPP loan, which has made 2021 a bit more tight.
In May of 2020, my pastoral intern and I went to a Black Lives Matter rally held in uptown Park Ridge. When some church leaders discovered that we had attended and participated in this responsible gathering of 300 people, outside, socially distanced, I was told, "If the pastors can go to a rally, we can have in-person worship at St. Luke's."  Within weeks, we had put together an in-person, socially distanced worship experience outside on the front steps of our church.   
Each Sunday from the 4th of July until early November, 2020, we worshipped on Cedar Street. Sometimes up to 130 people gathered. Neighbors came and started worshipping with us. It was amazing. During that stretch we only missed a couple of Sundays, and it was one of the most interesting experiences in my years of ministry.
Pressure was building to do in person worship inside. Several of our leaders felt that we had been too cautious and that it was now time to open the doors. We assessed the ventilation systems in our building and found that if we put different filters in the system that it would be a safer environment for in-person gatherings. The second wave of the pandemic hit and everything was shut down again in mid-November.
As Lent approached, there was a real sense that we again needed to start in-person worship, if not outside, then we should move inside, into fellowship hall.  We made the decision that in-person worship would begin on Easter Sunday. It was a beautiful day, and we had over 350 people in attendance. The following week it rained and we had 35 people inside for worship.
We began outside worship on Easter and continued until the neighbors complained that we were causing too much disruption to the neighborhood with noise and blocking streets.  The City of Park Ridge would not offer us an outside permit as of the 4th of July weekend this year, and so we are now back in our sanctuary – everyone masked, singing with masks, and using a more Presbyterian style of communion at people's seats.
This experience, like so many stress-filled experiences in life bring out the best and the worst in people.  Our staff has taken a careful, conservative approach to in person worship. We wanted to make sure the leadership was vaccinated before we came inside. At times, it has been polarizing at Congregational Council meetings, with more conservative members exacerbated that we are holding back worship opportunities for those who wanted to have the freedom to worship. 
I am convinced that we have lost good members of St. Luke's during this pandemic. They began worshipping at other Lutheran churches in the area that were doing inside worship throughout the pandemic. There have been times when our staff has felt pressured by leadership to do things that they would not have done otherwise, as a gesture to those who wanted to "open up."
We have appreciated the guidance of our synod. It has been helpful when they have made strong recommendations about how and if to worship in person. The Bishop's message recently where he talked about moving slowly and setting reasonable guidelines was very helpful. Also sharing the perspective of worship attendance expectations has been helpful.
Currently, we are wrestling about if and when to bring children back for an education hour in the fall.  We have used several surveys and open meetings for people to express both their frustration as well as their concerns about a path forward from here. 
I am exhausted spiritually and emotionally. I do not like a lot of conflict, but this has been filled with conflict from the beginning as both sides of the issue struggled to understand the other side's perspective. It has not helped that some of our brother and sister churches have decided to open early in the pandemic. I think it would have been helpful if we could have unified congregations in towns and synods, but there are so many local situations that create differences in circumstances.
All in all, we have survived so far, but I am sure that St. Luke's will look quite different post-pandemic.  Our finances and church attendance are my chief concerns going forward. 
Finally, the gifts of grief in this pandemic are the following:  developing a close camaraderie with staff, doing outdoor worship and letting the community see who we are and what we do, calling a second pastor during the pandemic, working with caring volunteers who are concerned and knowledgeable about community health, and believing that a vast majority of our members have felt that we have acted safely and responsibly during the pandemic.
The Rev. Richard Johnson is lead pastor of St. Luke's Lutheran Church in Park Ridge. You may visit St. Luke's online at this link, and reach out directly to Pastor Johnson at .