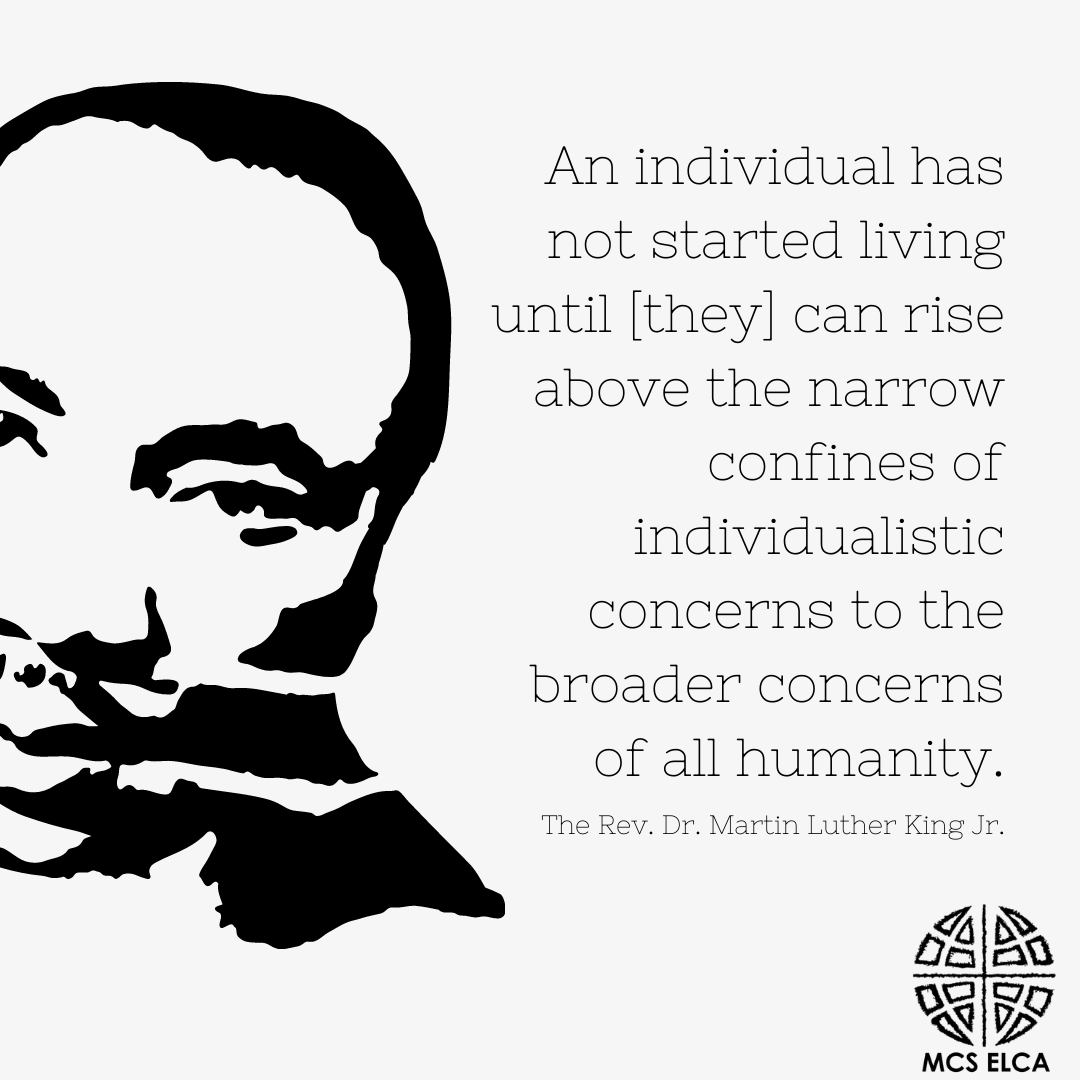 Observing Martin Luther King Jr. Day
This Monday on our national calendar, our country observes the birthday of the Rev. Dr. Martin Luther King Jr., calling attention to his life and witness. On the liturgical calendar, the ELCA commemorates Dr. King on January 15 (his actual birthday) as a renewer of society and martyr.
In observance of this day, Presiding Bishop Elizabeth Eaton acknowledges that we have a long way to go to dismantle structural and institutional racism. She says, "We are actively wrestling with the ways the sin of racism shows up in our lives together as a church. We also know that grace gives us the freedom to face our sin."
Watch Bishop Eaton's full message
here
.
Bishop Eaton also calls on the church to observe the National Day of Racial Healing (January 18), a day already observed by several organizations which originated in 2017 under W.K. Kellogg Foundation's Truth, Racial Healing and Transformation efforts.
The ELCA has provided several worship resources to help congregations observe this day in their local contexts. That document can be accessed
here
.
Inspired by Dr. King's legacy, the Metropolitan Chicago Synod of the Evangelical Lutheran Church in America actively seeks to confront and dismantle racism and white supremacy in church and society. As one tangible action item, we invite our leaders and members to sign the ELCA Anti-Racism Pledge, joining the over 4,000 ELCA leaders and members who have already done so.
Holy and righteous God, you created us in your image.
Grant us grace to contend fearlessly against evil
and to make no peace with oppression.
Help us, like your servant Martin Luther King Jr.,
to work for justice among people and nations,
to the glory of your name,
through Jesus Christ, our Savior and Lord.
Amen.
(Prayer for Renewers of Society, Evangelical Lutheran Worship, p. 60)