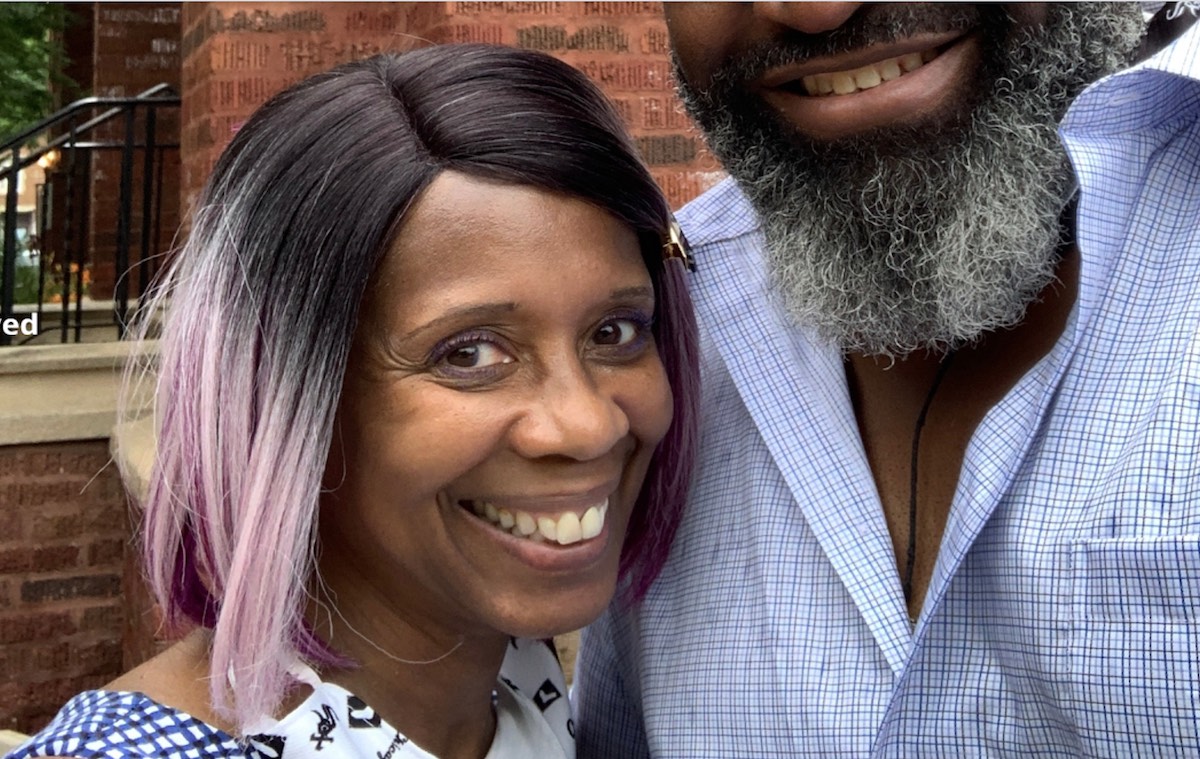 Dee Kempel
My name is Dee Kimpel and I have been a member of Irving Park Lutheran Church (IPLC) in Chicago, Illinois, for thirty-two years. It's hard to believe it's been that long, but here I am, still actively trying to serve God and accept God's grace.
It was fate that brought me to IPLC. A friend of mine, goddaughter to my oldest daughter Zephranie and IPLC member Michaline England invited me to play volleyball at the church gym. I knew I was not very good, but I went anyway. I'm sure I embarrassed my friend as she discovered I had no volleyball skills, whatsoever.
Nevertheless, the next day she invited me to attend service at the church. I was hesitant at first and turned her invitation down because I was raised in the Baptist faith, where there is a whole lot of foot-stomping, hand-clapping, and shouting that takes place. I assumed a predominately white Lutheran Church service would not be the same, and I was right. More on that shortly.
Michaline knew I was looking for a new church because I had relocated from the south side to the north side of the city and traveling across the city had become difficult. After a few more invitations, I decided I would attend because my daughter was a Girl Scout member and Michaline led the Girl Scout troop, often taking them to IPLC.
As I sat in church enjoying the worship service, I found many things Pastor Poole said to be uplifting and motivating and I let him know this in true Baptist form. I yelled loud and proud "Amen!" to which some congregation members responded with bowed heads, giggles, and astonished looks. My daughter looked at me and said "No, mom." Embarrassed, I put my head down for a few moments trying to sink into the bench hoping no one was watching. The embarrassment didn't end there because when Pastor Poole finished his sermon, once again in true Baptist form, I raised my hand and waved it like I didn't care. At that point, my poor little daughter, Zephranie, loudly whispered to me, "Mom please sit on your hands." Well, just when you thought I had learned all the lessons there were to be learned, when Pastor Poole did the sharing of the peace, I thought worship service was over! Everyone stood up, greeted and blessed each other so I thought "I'm really gonna love this church! Thirty minutes of worship and we're done!" Needless to say, if looks could kill, my daughter's petrified face said it all. I then gave in and let her walk me through what was next. When to sit, stand, kneel and most of all, no clapping! Lesson learned and fun memories made.
I decided I would go back. I was interested in the church and this faith, and I wondered what God had in store for me. After a few months of watching, listening, learning and following Pastor Poole's lead, I became a member of IPLC along with my daughter Zephranie, my first husband, and later my second daughter Dana. I was welcomed by most people at IPLC and over the course of a couple of years, I became active in the church, much as I did at my former church. I sang and directed three choirs at Mt. Hermon. Could I do that here? I wasn't sure. The music was not gospel music and required a measure of sight reading to sing and well, my teachings were to learn by rote. The organist played our notes, we repeated them, and magic foot stomping, hand clapping, spirit filled gospel music was made. So, I'm thinking, "Not so fast sista! Let's just see what happens."
There were some bumps in the road to feeling like IPLC was really my church home. Not everyone was friendly. In fact, there were a few down right negative statements made to me about whether or not I belonged. It would take some years to believe that I did belong, but finally it happened. There were members who encouraged and embraced me, and when they saw what was happening, they stepped up and whispered in my ear; "Don't leave!" There might not have been so much push back to my attending the services if it hadn't been for bringing Gospel music to the forefront. The IPLC Contemporary Ensemble was formed and I was the director. At first the music fell within the lines of traditional music, but I introduced more contemporary and gospel music. It was not always accepted. I then ran an additional service that ran regularly on Thursday evenings. The service incorporated a variety of music and was lay led by myself and other members of IPLC, primarily designed to serve members who could not attend Sunday morning service, and perhaps grow IPLC in the community. Each of these journeys lasted about ten years and served an educational purpose for the church and myself.
These experiences though sometimes painful, gave me purpose and taught me patience, something I knew little about. They also taught me about grace. Learning to accept myself and all my flaws was challenging.
Over time, I also came to embrace the season of Lent. A season I always felt was dark and dreary is now a season I look forward to because of God's grace. A time to reflect on what is truly important in my life by centering and focusing on God has provided a sense of peace that surpasses no other feeling that one can have. The excitement of being Lutheran wasn't always my goal. At one point I recall saying "Being Lutheran wasn't important to me, loving God was." This statement is still true, but it was because of my Lutheran journey that I came to understand grace. Therefore, there is joy in my being Lutheran.
I continue to be involved in many aspects of worship at IPLC serving as assistant minister, choir member, praise leader, member of dancers and streamers, and wherever I am called to serve. I've remarried at IPLC and our congregation filled the church in support of our love. Each year brings a new understanding, a new desire to continue this journey and a strong determination to give back. I believe it is my job to learn more about God and to live a life that reflects this belief. I came because I was invited by one of God's people. I stayed because I belong. I'm home and I'm blessed by God's grace.
Thanks, blessings, and pass the biscuits.
About Dee
Dee Kimpel is a member of Irving Park Lutheran Church in Chicago. To learn more about IPLC, visit the IPLC website. To see her story in video form, visit the MCS Facebook page.