Synod Assembly 2021
PLEASE REGISTER BEFORE MAY 24, 2021, AT 11:59 PM
Non-voting members, visitors, and guests are not required to register, and are invited to attend the Assembly via the MCS YouTube or Facebook Page.
Los miembros que no votaran, los visitantes y los invitados no están obligados a registrarse y están invitados a asistir la Asemblea del Sínodo a travéz de la página de Facebook y Youtube de MCS.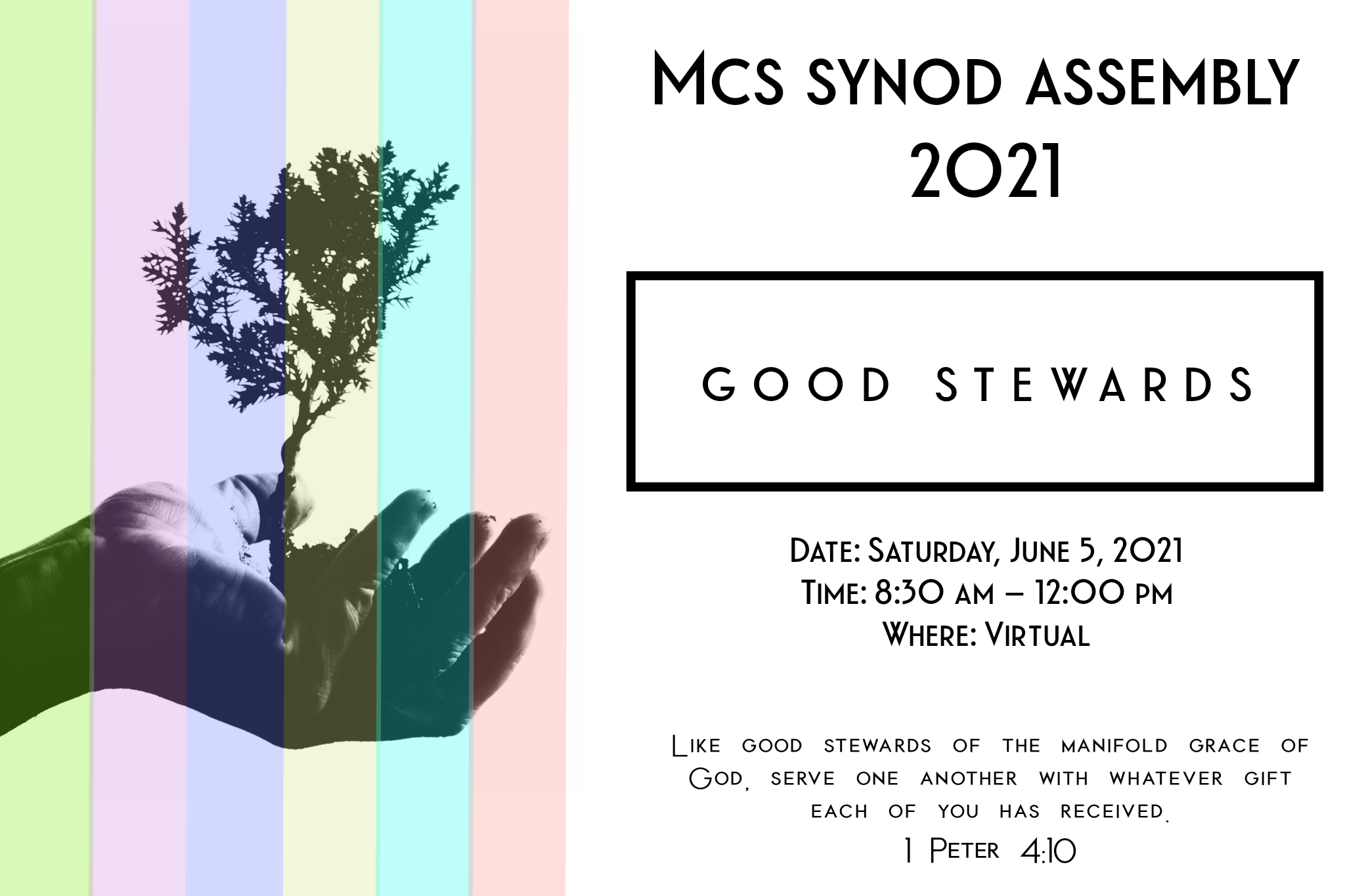 The 2021 Metropolitan Chicago Synod, ELCA, Synod Assembly will be taking place virtually, June 5, 2021. This year's theme will be "Good Stewards."
More information about the assembly will soon be arriving in your inbox and on the MCS website.
In the meantime, save the date, and plan to join us virtually.
Date: Saturday, June 5, 2021
Time: 8:30 am – 12:00 pm
Where: Virtual
Theme: Good Stewards
Verse: 1 Peter 4:10
"Like good stewards of the manifold grace of God, serve one another with whatever gift each of you has received."
Estimados compañeros y compañeras en ministerio:
Nos complace anunciar que la Asamblea del Sínodo Metropolitano de Chicago de 2021, ELCA, se llevará a cabo virtualmente el 5 de junio de 2021. El tema de este año será "Buenos mayordomos "
Pronto recibirá más información sobre la asamblea en su correro electronico y en el sitio web de MCS.
Mientras tanto, reserve la fecha y plane unirse a nosotros virtualmente.
Preguntas? Comuniquese con la reverenda Sunitha Mortha.
Fecha: sábado 5 de junio de 2021
Hora: 8:30 am – 12:00 pm
Dónde: Virtual
Tema: buenos administradores
Versículo: 1 Pedro 4:10
"Cada uno ponga al servicio de los demás el don que haya recibido, administrando fielmente la gracia de Dios en sus diversas formas."
Pre-Assembly Dates, Meetings, and Orientations
Online registration is open until May 24, 11:59 PM https://cutt.ly/Ek2kdB9
April 1, 2021, Deadline for Resolutions and Memorials
May 1, 2021, Nominations Deadline
May 15, 22, & 29 2021, Zoom Orientation to 2021 MCS Assembly
Orientation to this year's virtual assembly will be held via Zoom on three dates. You may choose to attend May 15, 22 or 29, 10-11 AM.
May 27, 6 PM, Zoom, Budget Pre-Event
A pre-assembly discussion on the proposed MCS budget.
Nominating Yourself or Others
The Metropolitan Chicago Synod's Nominating Committee is currently looking for assistance as we seek to raise up leaders from across our synod. We are looking for qualified persons, both rostered and lay, to serve as nominees for the election at the MCS Synod Assembly on June 5, 2021.
We are asking you to contemplate and pray about who you think would be effective and called to the positions listed below. If you think of someone, approach them, talk to them about why you want to nominate them, and ask if they would be willing. If they are willing give them the nomination form and have them follow the instructions for nomination.
We ask you to keep in mind that we are a diverse synod and we want our leadership to reflect that in age, ethnicity, and those whose primary language is other than English.
Please submit the names of prospective nominees as soon as possible, but before May 1, 2021.
If you have any questions, please contact Pastor Kyle Severson,
To nominate yourself or others, please fill out the nomination form: https://forms.gle/5synG82MsT4Rvnrq6
or one of the following fillable PDFs:
https://mcselca.org/wp-content/uploads/2021_nomination_form_Discipline.pdf
https://mcselca.org/wp-content/uploads/2021_nomination_form_SynodCouncil.pdf
https://mcselca.org/wp-content/uploads/2021_nomination_form_Consultation.pdf
https://mcselca.org/wp-content/uploads/2021_nomination_form_CWA_1_.pdf
You may also mail it to:
Nominating Committee
METROPOLITAN CHICAGO SYNOD, ELCA
1420 W. Dickens Avenue
Chicago, IL 60614-3004
Synod Council
The Synod Council is the synod's board of directors, functioning as the interim legislative authority between meetings of the Synod Assembly. They meet four-five times per year, typically on Saturdays.
The functions of the Synod Council shall be to:
Exercise trustee responsibilities on behalf of this synod.
Recommend program goals and budgets to the regular meetings of the Synod Assembly.
Carry out the resolutions of the Synod Assembly.
Provide for an annual review of the roster of Ministers of Word and Sacrament and the roster of Ministers of Word and Service, receive and act upon appropriate recommendations regarding those persons whose status is subject to reconsideration and action under the constitution and bylaws of the ELCA, and make a report to the Synod Assembly of the Synod Council's actions in this regard.
Issue letters of call to rostered ministers as authorized by Chapter 7 of the constitution and bylaws of the Evangelical Lutheran Church in America.
Fill vacancies until the next regular meeting of the Synod Assembly, except as may otherwise be provided in the constitution or bylaws of this synod, and determine the fact of the incapacity of an officer of this synod.
Report its actions to the regular meeting of the Synod Assembly.
Perform such other functions as are set forth in the bylaws of this synod, or as may be delegated to it by the Synod Assembly.
Term Length: 4 years
Churchwide Assembly Voting Member
The ELCA Churchwide Assembly, the primary decision-making body of the church, is a process of communal spiritual discernment on behalf of the entire church.
Term Length: August 8-12, 2022 in Columbus, Ohio
Summary of Duties / Areas of Focus for Voting Members:
Hear reports and review the work of churchwide officers, leaders and units
Receive and consider proposals from synod assemblies
Elect officers, board members and other leaders as specified by the constitution or bylaws
Establish ELCA churchwide policy
Worship together
Adopt a budget for the churchwide organization
Conduct other business related to the ELCA churchwide organization
*NOTE: Your travel, lodging, and meal expenses are covered by the Evangelical Lutheran Church in America.
Committee on Consultation
This committee functions primarily in an advisory role to the synod bishop, assisting the bishop in adjudicating matters of disagreement between congregations or among factions within a congregation on "substantive" issues. The Consultation Committee does not hold regular meetings. The members of this committee serve on an "as needed" basis.
Term Length: One 6 year term
Committee on Discipline
The Committee on Discipline, consisting of six rostered and six lay members, serves to render decisions, as a jury would do, in matters concerning formal ecclesiastical discipline involving a rostered person or a congregation. The process of discipline is described in detail in Chapter 20 of the Constitution, Bylaws, and Continuing Resolutions of the Evangelical Lutheran Church in America. The Committee on Discipline does not hold regular meetings. The members of this committee serve on an "as needed" basis.
Term Length: One 6 year term
Please note:
Those nominated must be active members of congregations of the Metropolitan Chicago Synod.
As always, we seek a diversity of candidates.
Before suggesting a person, ask whether the person is willing to serve if elected.
The Nominating Committee is not required to place in nomination the name of any person suggested.
In light of the level of responsibility and influence of the positions, no one may serve on more than one standing committee of the synod.

Assembly Quicklinks